RIDING LESSONS FOR ALL AGES AND SKILLS
Riding lessons are taught in four-week blocks. New students will begin with either a Horse Power lesson or Horsemanship lesson depending on their age (see descriptions below). Horse Power Lessons are one hour long. Horsemanship Beginning A lessons run for one hour. Other Horsemanship lessons run for 1 1/2 hours. Fees are listed below. We offer an early pay discount of $20 and family discounts are also available.
HORSEMANSHIP LESSONS

Horsemanship riding lessons are designed for ages 8 and up and are designed to teach a person to evaluate, care for, and handle horses safely. The lessons are divided into four topic areas:
- Knowledge
- Groundwork
- Grooming & Saddling
- Riding
Horsemanship lessons are mainly taught as group lessons on a four-week block schedule.
Our Horsemanship lessons have taken a major overhaul and update in 2021. Below is a description of our new program

Beginning lessons are usually done in the inside arena, with the same horse and riders, doing the same level of riding to help build confidence. Students will advance by demonstrating to Patricia that they have the skills needed to advance to the next levels at Skill Challenge times (see calendar).
BEGINNING A (Safety, Ground and Bareback) is our basic beginning class. Students with no experience at Schow's Ranchette and over 8 years old will start with this class as well as some 6 to 7 year old that need to move out of YOU & ME & HORSE MAKE 3. Students will focus on safety, ground skills and bareback riding with a little bit of saddle riding. Beginning A lessons are one hour per week.
Beginning B-1(Basic Western riding + Beg. A) is our 2nd level beginning class. Students will maintain and grow what has already been taught in Beginning A and move to riding in a western saddle, work on saddling, lots of trotting, and lead line lunging. These lessons are to help build a secure seat and confidence while on a horse. Beginning B lessons are 1 1/2 hours long.
Beginning B-2 (Basic western riding + Beg. A) is the 2nd half of our 2nd level beginning Class. Students will continue to maintain and grow what has already been taught and will work on bridling and western loping.
Beginning C (Basic English + Beg. B) Is our 3rd level of riding. Students will maintain and grow their previous skills as well as adding the English style of riding and free lunging. English riding develops strength and coordination.
Intermediate A, B, and C lessons will follow the same outline above A being Safety, ground, and bareback, B being Western +A, and C being English +B. Intermediate lessons will be done in both the inside and outside arena, students ride multiple horses to learn to handle different personalities and energy levels, ride with different levels in the same lesson, and add a 1 1/2-hour Equine Management (EM) lesson. Intermediate/EM group lessons are 1 1/2 hours twice per week.
Equine Management lessons deal with horse care, feeding, medical, massage, trick training, tack care, equipment care and repair, facility maintenance, and other needed knowledge.
Advance A, B, and C lessons follow the same outline as Beginning and Intermediate, but students are working on a competitive level or training level with a young or rehab horse. Advance lessons also include the EM lessons.
Fees

Single lesson $80 IF AVAILABLE
Group Power and Beginning lessons
Single group lesson $70
IF AVAILABLE
Block of lessons $200(4 lessons)
Group Inter. & Advanced lessons (Riding and Equine Man.)
Single group lesson $70 IF AVAILABLE
Block of lessons $200 (4 weeks)
Payments for lesson Blocks are due by the early pay date of each block. Payments not received by the early pay date will be considered Single lessons and will be charged accordingly. Early pay credits will apply.
Copy and paste link to see sign up and available times
https://www.signupgenius.com/go/10C0C4FA8A92FABF49-schows

Horse pOWER lESSONS
The Power lesson classes teach our riders about the ABC's of Horsemanship:
A: Attention B: Balance
C: Confidence and Coordination
YOU & ME & HORSE MAKES THREE
You & Me & Horse makes Three is our Power riding lessons designed for 3-5 year old students. We ask that these riders have parental involvement in class as well as our riders who are learning disabled or have physical or mental challenges. Power riding lessons are taught as a half hour group lessons on a four-week block schedule.
Power Plus lessons are for 6 and up, until a student is tall enough to learn to saddle one of our smaller lesson horses. Power Plus lessons will ride horses bareback, western and English with help for saddling. Once the student is tall enough to learn to saddle they will move into out Beginning B lessons.
Fees
Power Lessons - 1/2 hour $200 per block (4 lessons)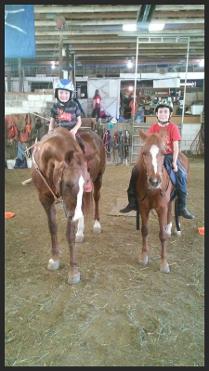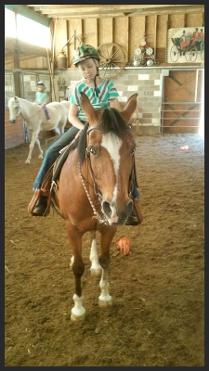 2022-23 BLOCKs
Reg. starts June 29 Block 8 (July 17-Aug 11) Early Pay July 10, 2023
NO LESSONS AUG. 11 - 20
Reg. starts July 28 Block 9 (Aug. 21-Sept. 15) Early Pay Aug. 14, 2023
Reg. starts Aug. 31 Block 10 (Sept. 18- Oct. 13) Early Pay Sept. 11, 2023
NO LESSONS OCT. 14-22
Reg. starts Sept. 28 Block 11 (Oct. 23-Nov. 17) Early Pay Oct. 16, 2023
Reg. starts Nov. 3 Block 12 (Nov 20-Dec. 15) Early Pay Nov. 13, 2023
NO LESSONS DEC 16, 2023 - JAN 8, 2024 WATCH FOR SPECIAL HOLIDAY CAMPS